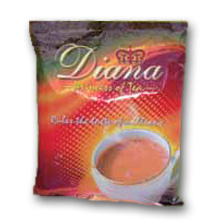 Diana packet tea is primarily targeted at regular consumers and is available through our network of retailers and wholesalers in the north and north western regions of the country.
Available in attractive packing of 250 gms., Diana packet tea comes from the Dooars region of India and its rich taste, strong natural flavour and sensuous aroma is bound to soothe your senses.
Our packet tea comprises of an excellent blend of various premium grades of our tea. It is extremely popular in Haryana, Rajasthan and Chhattisgarh.
The company aims to expand the market for this product by targeting new market segments in the near future.